Day 4: Toronto →Thousand Islands→Ottawa→Montreal
Assemble at designed point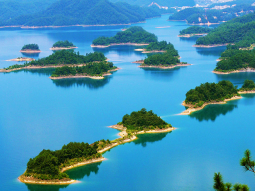 Thousand Islands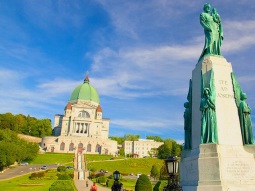 St.Joseph Oratory
Summary of The Day
In the morning, we will head to the Thousand Islands and take the cruise.
Then we will continue the tour to Ottawa, where we see the National War Memorial, Parliament Hill, Peace Tower.
Afterwards, we drive north to Montreal. We will go inside the famous St. Joseph Church.
After that, we will take the double-decker bus. Along the way, we can overlook of the city from Mount Royal, see the famous Olympic Stadium from the distance.
Next, we will wander around the old town and be surrounded by the European style architecture.
After dinner, we will go to the hotel and have a good rest.
Attractions Reference
Thousand Islands
The Thousand Islands constitute an archipelago of 1,864 islands that straddles the Canada–US border in the Saint Lawrence River as it emerges from the northeast corner of Lake Ontario. They stretch for about 50 miles downstream from Kingston, Ontario. The Canadian islands are in the province of Ontario and the U.S. islands in the state of New York.
Ottawa
Parliament Building of Ottawa - Parliament Hill, located on the banks of the Ottawa River Canada's capital city, is home to the Canadian Parliament. The gorgeous location and dramatic architecture make this a huge tourist location-- more than 3 million people come every year.
Peace Tower - The Peace Tower is a large clock tower in Ottawa, Ontario that sits at the center of Parliament Hill. This iconic Canadian building appears on both the fifty- and twenty-dollar Canadian bills. It is more than 300 feet tall.
Montreal
Olympic Stadium and Tower - The "tower" portion of this Stadium, which was originally constructed for the 1976 Olympics, is the tallest inclined tower in the world, stretching 574 feet into the air. This enormous building has a capacity of 78,322. We will see the tower from distance.
The admission ticket to Olympic Stadium and Tower will be cancelled.
Old Montreal - The neighborhood in Montreal, Quebec known as "Old Montreal" is the oldest area of the city, with some structures dating as far back as New France settlements. The area contains many museums as well as sightseeing opportunities.
Notre-Dame Basilica of Montreal (pass-by) - The Notre-Dame Basilica-Cathedral in Montreal, Quebec is the oldest parish church in North America, founded in 1647. It is also the first to be elevated to the rank of basilica. Visitors also come for its impressive neoclassical architecture.
Gouverneur Hotel/Holiday Inn or similar
Things to Know