Day 1: Corning→Niagara Falls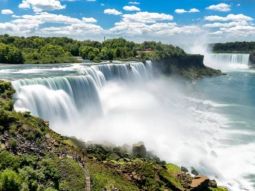 Niagara Falls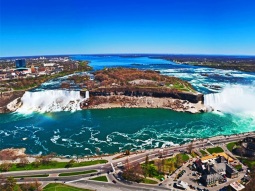 Goat Island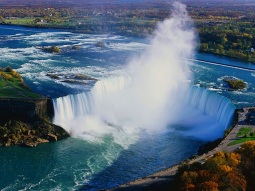 Horseshoe Falls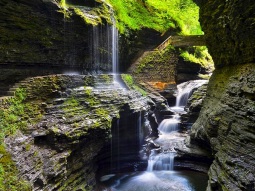 Watkins Glen State Park
Today we will be heading to the Corning Glass Museum! The museum is located in western New York and is dedicated to history, art, and the science behind glassmaking. Following, we will be visiting Niagara Falls and overlooking the American Fall, the Horseshoe Fall, and the Bridal Veil Fall! Here, you will be simply amazed by the beauty of the falls and what makes Niagara Falls worth the visit.
Itinerary:
Corning Museum of Glass (optional, 90 mins) → Watkins Glen State Park (optional, 60 mins) → Hotel → Niagara Falls Night Tour (optional, 90mins)
Kindly Reminder:
1. Watkins Glen State Park is a summer itinerary, executed after the opening of the canyon, usually from April to October each year.
The Corning Museum of Glass
In western New York is dedicated to the history, art, and science behind glassmaking. Its collection contains more than 45,000 objects, some of which date back millennia. Guests here will be invited to watch the Hot Glass Show which is performed by a professional glass craftsman, and, will have a chance to know how ancient Egyptians made the world's first glass mask 3000 years ago!
Niagara Falls Night Tour
Get closer to America's Oldest State Park at Niagara Falls State Park! Enjoy some awe-inspiring sceneries and adventure-packed experiences with us! Niagara Falls is actually not one waterfall, but three. The Niagara River flows down from Lake Erie and is divided by Goat Island. There, part of it flows to the horseshoe-shaped Canadian Falls (aptly named Horseshoe Falls), and the rest flows to the American Falls. At the American falls, the river is also split by a second small island, Luna Island, creating the third, small waterfall known as Bridal Veil Falls.
Watkins Glen State Park
Glen Creek has carved a dramatic gorge into the Watkins Glen hillside, resulting in a large, cavern-like network of rock formations. Within two miles, the glen's stream descends 400 feet past 200-foot cliffs, generating 19 waterfalls along its course. The gorge path winds over and under waterfalls and through the spray of Cavern Cascade.
Holiday Inn Express & Suites Buffalo Downtown Or Same level