Day 1: Hometown→New York City→Night tour
Please refer the pick-up point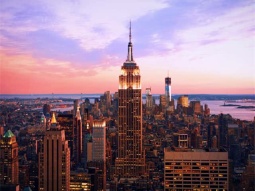 New York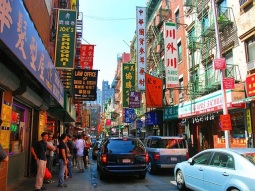 New York Chinatown
When you arrive at New York airport, the domestic flight passengers please meet tour guide at the baggage claim area; international flight and JFK terminal 7 passengers please meet tour guide at terminal exit. Free pick up time is 8:30am-11:00pm (flight arrival time); the tour guide arranges you and other
members to take the nearest bus to leave the airport.
JFK, LGA Airport: Guests arriving before 9:00am will enjoy free transfer to Manhattan, where you can join an optional Manhattan Morning Tour at your own expense. Guests arriving from 9:00am to 5:00pm enjoy a focused exploration of flushing, where you can savor your food, go shopping, and learn about Asian life and culture… free luggage storage service will be provided during your stay. We will arrange shuttle bus to the hotel depend on the number of people and the time of flight arrival.
EWR Airport: Guests arriving before 12:00pm can enjoy Jersey Gardens Outlet Mall shopping with free transfer; or drop-off to hotel for rest after pick up (hotel check-in after 3:00pm).
No flight: If you are arriving in New York ahead of departure date, you can go to one of the three major airports, or two meet up points as below:
Flushing: New York Food Court (133-35 Roosevelt Ave, Flushing, NY 11354) before 5:00pm;
Manhattan: Chinatown Mayi Office (77 Bowery, 2FL, New York, NY 10002) before 6:00pm
Guests who enjoy free airport pick-up or pick up in Manhattan and Flushing do not include a tip of $10/person; and the tour guide will collect it the day before the tour ends. Any flight delays due to the weather and other reasons will prevent passengers from arriving during the free pick-up time, subject to the pick-up charge ($120 for 1st and 2nd persons, $10 for each additional person), Or go to the hotel by yourself.
Manhattan Morning Tour: Adult: $25/person, Child: $15/person (limited to arrival at JFK, LGA Airport before 9:00am, mini 4 people)
(30 minutes) [Brooklyn Bridge Park] is 85-acres Park on the Brooklyn side of the East River in New York City. Almost every picture taken from Brooklyn Bridge Park scenery can be used as postcards. (15 minutes) New York's most famous High Line Park is a new attraction, which built in 5 years. The number of visitors to visit has been more than the Statue of Liberty. (15 minutes) [Chelsea Market] Experience the authentic local culture of New York. The 800-foot wide street is a food hall, shopping mall, office building and television production facility located in the Chelsea neighborhood of the borough of Manhattan. (10 minutes) [Washington Square Park] is the main landmark of Manhattan's Greenwich Village, right in the middle of the NYU University campus. Variety of musicians plays the piano, play the violin, play the guitar, and play drums here.
New York Night Tour: Adult: $25/person, Child: $15/person
Take you to enjoy the glamorous night view of the New York City: Times Square, Rockefeller Center…Finally stay at Hudson River Park which is on the other side of New York to take the entire night view of Manhattan. (Due to seat availability, need to register before 4:30 pm)
Renaissance Newark/DoubleTree by Hilton Fort Lee/Sheraton Edison/Crowne Plaza EWR or similar